20 May

Celebrating Members of Asian and Pacific Islander Heritage

Since 1991, every United States President has officially recognized and designated May as Asian/Pacific Islander American Heritage Month.  May is also Asian Heritage Month in Canada.[i]  Americans and Canadians have a shared purpose this month for celebrating and recognizing the achievements and contributions made by attorneys, among others, of Asian and Pacific Islander heritage.

In the U.S. alone, 5.2 % of all 2020 employed lawyers were Asian.[ii]  For local government attorneys, IMLA is committed to providing our members with valuable DEI resources through our Diversity and Inclusion Section.

To celebrate Asian/Pacific Islander American Heritage Month and Asian Heritage Month, IMLA would like to honor all Asian/Pacific Islander American and Canadian lawyers and legal professionals in our membership.  Among our members, IMLA would like to feature some attorneys, nominated by their peers, who serve as powerful examples of leadership in our legal communities.
---
Tram "Trisha" Dang
Assistant City Attorney, Sugar Land, Texas
Trisha is the Assistant City Attorney with the City of Sugar Land, Texas.  Trisha has many years of experience, after graduating from Texas Southern University School of Law in 1999, went to work for the Texas Department of Public Safety, which is where I first had met her over an appeal from a drivers' license termination, where the traffic stop had been initiated by a then or soon-to-be-former police officer.  She then joined the legal team at for the City of Missouri City, Tx., as an Assistant City Attorney, where she was recognized in FY 2015 for providing community service well beyond her work schedule, and among other tasks, advised their Planning Zoning Commission.   She currently serves as Assistant City Attorney for the City of Sugarland. She is a first generation immigrant from Vietnam.
---
Nghiem V. Doan

City Attorney, League City, Texas
Nghiem Doan serves as the City Attorney for the City of League City.  Mr. Doan is responsible for providing a broad range of legal services to City Council, administration, and directors.  He is responsible for negotiating, drafting, and evaluating contracts, deeds, leases, and other legal instruments, as well as preparing municipal ordinances and resolutions for adoption by City Council.  He also manages the City's litigation and serves as legal counsel for various City boards.
Mr. Doan has been practicing municipal law since 1999 when he started with the City of Pearland. His tenure at Pearland provided him experience managing the legal challenges faced by a city experiencing rapid growth, including economic development, land use regulation, employment issues, and real estate transactions.  That experience has served him well in League City, where he has been in his post since 2015.  Mr. Doan received his bachelor's degree from the University of Texas at Austin and attended the University of Houston Law Center for his juris doctorate.  Early in his tenure at Pearland, he earned a Master of Arts degree in Public and Private Management from the University of Houston-Clear Lake.
---
Michael Oh

Senior Assistant City Attorney, Henderson, Nevada
Michael J. Oh is the Senior Assistant City Attorney for the City of Henderson City Attorney's Office.  He has worked for the City for more than 15 years in both the Civil and Criminal Divisions.  Michael provides comprehensive legal support to the City's Police Department.  His tenure with the City and prior experience as a municipal prosecutor make him ideally suited for that role.  He has written several articles on legal issues impacting law enforcement for "The Police Chief", the publication of the International Association of Chiefs of Police.  Michael currently serves as Secretary for the State Bar of Nevada Civil Government Attorney Section and previously served as panel chair for the State Bar Southern Nevada Disciplinary Board.  Michael's parents immigrated to the United States from Korea in the mid-1960s.
---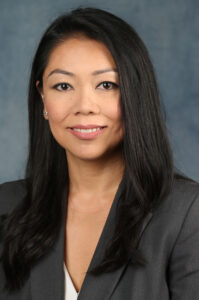 Micaela Rustia Moore
City Attorney, North Las Vegas, Nevada
Micaela Rustia Moore was appointed to serve as City Attorney in January 2017.   Moore is Nevada's first Filipina City Attorney. She is also the highest ranking official of Filipino descent at the City of North Las Vegas. Prior to becoming City Attorney, Moore was a partner at national law firm Fox Rothschild LLP, where she specialized in financial restructuring and bankruptcy, real estate law, business law, and litigation.  Moore earned Bachelor of Arts degrees in Political Science and Broadcast Journalism from the University of Southern California.  She earned her Juris Doctor degree from Southwestern Law School.  Admitted to the Nevada and California bars, Micaela has practiced law for more than 13 years.
Moore has been named a top attorney several times in the Legal Elite edition of Nevada Business Magazine, Super Lawyers Mountain States Magazine, and ALM's "Women Leaders in the Law".  She has also been named a 2015 Rising Star by Las Vegas Business Press.  Micaela is also rated AV® Preeminent™ by Martindale-Hubbell, which is testament that a lawyer's peers rank him or her at the highest level of professional excellence.
Moore serves the community through volunteering with the Junior League of Las Vegas and the Children's Attorney Project through the Pro Bono Project of Legal Aid Center of Southern Nevada.  She is also an Executive Council At-Large Member of the State Bar of Nevada Public Lawyers Section and on the advisory board for the Leadership and Law Preparatory Academy at Canyon Springs High School.  Moore is a graduate of Leadership Las Vegas, Class of 2018.
---
[i] https://www.canada.ca/en/canadian-heritage/campaigns/asian-heritage-month/about.html
[ii] https://www.bls.gov/cps/cpsaat11.pdf. U.S. Bureau of Labor Statistics. HOUSEHOLD DATA ANNUAL AVERAGES 11. Employed persons by detailed occupation, sex, race, and Hispanic or Latino ethnicity.  Most BLS publications do not show separate estimates for the American Indian or Alaska Native, Native Hawaiian or Other Pacific Islander, and Two or More Races groups because the number of survey respondents is too small to develop estimates of sufficient quality.  People in these groups are included in all totals.