01 Mar

Phenomenal Women, That's Them!

March is Women's History Month!  Since 1995, every U.S. President has issued a series of annual proclamations designating the month of March as "Women's History Month."  These proclamations celebrate the contributions women have made to the United States and recognize the specific achievements women have made over the course of U.S. history in a variety of fields—including the legal field.

American women of every race, class, and ethnic background have made historical contributions to the growth and strength of this country in countless recorded and unrecorded ways.[1]  To celebrate Women's History Month, IMLA would like to honor all women—lawyers and legal professionals—who contribute to and strengthen our association.

IMLA is committed to providing our members resources that highlight equality and equity issues affecting women through our Diversity and Inclusion Working Group and Listserv.  Among our members, IMLA would like to feature some individuals, nominated by their peers, who serve as powerful examples of leadership in our legal communities.

[1] Pub. L. 100-9, 101 Stat. 99 (1987).

If you are an IMLA member and interested in joining the Diversity and Inclusion Working Group and Listserv, please email Caroline at cstorer@imla.org. If you are not an IMLA member are are interested in joining our membership and Diversity and Inclusion initiatives, please visit this page to join, we'd love to have you on board!
---
Bethany Rudd Sanchez
Assistant City Attorney, Henderson, Nevada
Bethany Rudd Sanchez has 15 years of experience working for municipal governments in Southern Nevada and providing advice on a wide variety of matters including land development, redevelopment, planning and zoning, public works projects, regulatory compliance and public records.  She has been recognized multiple times by Nevada Business Magazine as one of the Top Attorneys in Nevada.  Bethany earned her law degree from Valparaiso University School of Law.  She earned her undergraduate degree from the University of Chicago.  Bethany currently resides in Henderson, Nevada with her husband and four children.
---
Claudia Aguayo
Assistant City Attorney, North Las Vegas, Nevada
Claudia Aguayo is the Assistant City Attorney for the City of North Las Vegas, where she has worked since 2004.  She supervises both the Civil and Criminal Divisions of the City Attorney's Office.  Her areas of practice include: government administration; labor and employment law; criminal law; contract law; constitutional law; public records law; open meeting law; policy analysis; and public safety administration. She has been recognized by Nevada Business Magazine as one of the Top Attorneys in Nevada.  Claudia earned her law degree from the University of California, Davis King Hall School of Law.  She earned her undergraduate degree from the University of Nevada, Reno.  Claudia has previously worked as a Deputy District Attorney in the Sacramento County District Attorney's Office and as an adjunct professor at the College of Southern Nevada.
---
Corrine A. Heine
City Attorney, Minnetonka, Minnesota
Corrine Heine is the city attorney for Minnetonka, Minnesota, where she has worked since 2013.  She handles civil matters for the city and supervises the Criminal Division of the city's Legal Department. She practiced municipal law in a private law firm prior to joining the city, advising cities in all areas of municipal law with emphasis on real estate, public records, eminent domain, and planning and zoning.  She has served as the Minnesota state chair for IMLA since 1991 and is a past president of Minnesota Women Lawyers and the Minnesota Association of City Attorneys. While in private practice, she was certified as a Real Property Law Specialist by the Minnesota State Bar Association and was recognized several years as a Super Lawyer®  in the area of government law. Corrine earned her law degree from the University of Minnesota and her undergraduate degree from Wartburg College.
---
Dorothy "Dottie" Palumbo
Of Counsel, Bojorquez Law Firm, PC
Dottie is in the Top Tier of Texas municipal attorneys and has long been a role model for women (and men) in our profession.  She has exhibited leadership throughout her career both in-house and in private practice.  Dottie has given generously as a mentor to many lawyers who are now themselves appointed city attorneys.  Dottie served as Assistant General Counsel for the Texas Municipal League from 1994 to 2000, providing experienced legal assistance to cities across the state.  Dottie worked in-house as City Attorney or Assistant City Attorney for Denton, Galveston, Garland, Highland Village, and Midland.  She advises city officials in all areas of municipal law with primary concentrations in Land Use, Public Improvement Districts, Utilities, Gas Well Development, and Legislation.  Dottie is a past-President of the Texas City Attorneys Association.  She is a Board Member of the Texas Coalition of Cities for Utility Issues.  She has served as faculty chair, moderator and speaker for the University of Texas School of Law's annual Land Use Conference.  Dottie graduated from South Texas College of Law with a Doctor of Jurisprudence and Arizona State University with a Masters in Education.  She is a proud IMLA Local Government Fellow.
---
Gwen Tromley
Deputy Chief, Litigation Practice Group, Baltimore City Department of Law
Gwen was admitted to the Maryland Bar 1991 after having received her J.D. from the University of Baltimore.  She joined the Law Department in 1999 in the Collections Division and is now the Deputy Chief of the Litigation Division.  Prior to joining the Law Department, Gwen worked as an Assistant Attorney General representing the Maryland Department of Education.  Gwen has also practiced privately, representing the Housing Authority of Baltimore City and others in lead paint matters.  Gwen has served on the Governor's Landlord-Tenant Laws Study Commission, and has been a Fellow of the Maryland Bar Foundation for over fifteen years.  She is a Member of the Maryland State Bar Association, Litigation Section, has served on its Section Counsel for the Delivery of Legal Services, and as Faculty for its Professionalism Course.  Gwen is a member of the American Bar Association (ABA) in its Litigation Section.  She was a judge for the 2020 University of Maryland Baltimore County Mock Trial Program, has been a judge of ABA National Law Student Mood Court Competition and the Client Counseling Competition, as well as a Brief Reader for its National Trial Advocacy Competition.
Gwen erved as President of the Women's Law Center of Maryland for two years after having served as it Vice-President, Chair of Judicial Selections Committee, Employment Law Committee and member of its Board of Directors for more than a decade.  She co-designed and conducted an annual summer program for Lake Clifton High School's Law Related Education Program, partnering the City's Law Department with the Women's Law Center, the Monumental City Bar Association and the Alliance of Black Women Attorneys.  Gwen has been a member of the Bar Association of Baltimore City, serving on its Judiciary Committee and as a Volunteer Settlement Attorney in the Circuit Court.  Gwen received the 2013 Charles H. Dorsey, Jr. Mentor Award from the Baltimore City Bar Association, the inaugural Baltimore City Solicitor's Office Award for Excellence and the 2014 International Municipal Lawyers Distinguished Public Service Award.    She chaired the City's Host Committee for IMLA's 2014 Annual Conference in Baltimore.
"[Gwen] is a mentor to every lawyer in the office and takes particular care to be a sounding board for women lawyers," said Hilary Ruley, Chief Solicitor, General Counsel Division of the Baltimore City Department of Law.
---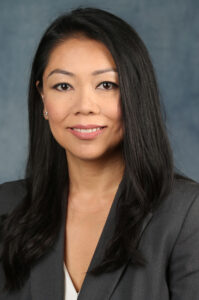 Micaela Rustia Moore
City Attorney, North Las Vegas, Nevada
Micaela Rustia Moore was appointed to serve as City Attorney in January 2017.  Micaela is the Chief Legal Officer of the City, managing all civil and criminal legal matters for the City.  She and her staff provide legal, business, and strategic advice to the Mayor, City Council, Redevelopment Agency, North Las Vegas Library District, all official boards and commissions, all City officers and employees, and all departments.  She also oversees prosecution of misdemeanor and infraction violations, including, but not limited to, domestic violence, battery, petty theft, driving under the influence, code violations, and traffic offenses that occur within city limits.  She supervises and manages all litigation and transactional matters handled in-house and by outside counsel, in all aspects of municipal law, such as land use, development, public finance, procurement, labor law, employment law, constitutional law, torts, transportation, public utilities, construction, compliance, risk management, ethics, open meeting law, and public records.
Prior to becoming City Attorney, Micaela was a partner at national law firm Fox Rothschild LLP, where she specialized in financial restructuring and bankruptcy, real estate law, business law, and litigation.  She represented a diverse clientele of land developers, financial institutions, commercial businesses, business owners, and officers, in varied industries, including real estate, lending, retail, gaming, hospitality, entertainment, manufacturing, solar, and mining.  Having worked on some of the largest and highly contested restructuring matters in the state and represented clients in different roles, Micaela has a unique ability to understand and tackle each party's competing goals to negotiate and implement solutions to get the best outcome for clients as quickly and efficiently as possible.
With the City recovering from an unprecedented period of financial and political crisis, joining the City of North Las Vegas presented Micaela with a once-in-a-lifetime opportunity to merge her passion for business transformation with her desire to serve the public good.  She is a key member of the executive management team, driving the vision and strategic course of the City.  Micaela has played a lead role in bringing a number of significant projects to fruition, including solving a decades-old problem to bring water to the Apex Industrial Park, as well as forming and bonding a special improvement district to add sewer and road infrastructure to previously undeveloped land, all of which has already attracted new industrial businesses with many jobs.  Micaela works to keep North Las Vegas in the strongest possible legal standing, thereby saving millions of dollars for essential services.  She has been active in identifying risk-generating activities and finding solutions to reduce liability.
Micaela earned Bachelor of Arts degrees in Political Science and Broadcast Journalism from the University of Southern California.  She earned her Juris Doctor degree from Southwestern Law School.  Admitted to the Nevada and California bars, Micaela has practiced law for more than 13 years.
Micaela has received numerous awards.  She has been named a top attorney several times in the Legal Elite edition of Nevada Business Magazine, Super Lawyers Mountain States Magazine, and ALM's "Women Leaders in the Law".  She has also been named a 2015 Rising Star by Las Vegas Business Press.  Micaela is also rated AV® Preeminent™ by Martindale-Hubbell, which is testament that a lawyer's peers rank him or her at the highest level of professional excellence.
Micaela serves the community through volunteering with the Junior League of Las Vegas and the Children's Attorney Project through the Pro Bono Project of Legal Aid Center of Southern Nevada.  She is also an Executive Council At-Large Member of the State Bar of Nevada Public Lawyers Section and on the advisory board for the Leadership and Law Preparatory Academy at Canyon Springs High School.  Micaela is a graduate of Leadership Las Vegas, Class of 2018.
Born in the Philippines, Micaela is pleased to be the first Filipina-American to serve North Las Vegas as City Attorney.  Her husband is a lifelong Las Vegan and they have three kids.
---
City Attorney's Office for the City of Manitowoc, Wisconsin
Kathleen McDaniel, City Attorney, Manitowoc, Wisconsin
Elizabeth ("Liz") Majerus, Assistant City Attorney, Manitowoc, Wisconsin
Jane Rhode, Paralegal, City Attorney's Office, City of Manitowoc, Wisconsin
Chuck Adams, City Attorney for Sheboygan, Wisconsin, nominated Kathleen, Liz, and Jane.
They are an all-female office consisting of City Attorney Kathleen McDaniel, Assistant City Attorney Elizabeth ("Liz") Majerus, and Paralegal Jane Rhode.  As a team, they would be an excellent representative of smaller-sized offices in smaller cities, and not only are they somewhat unique being an all-female office, but they also do excellent work.  From my perspective from a neighboring (or even a rival) city (we are 30 miles south of Manitowoc), Kathleen and her team are doing all the right things as representatives for their city.

While there are many good things I could say about this team, one that I want to focus on is just how well they work together to add value to their work.  Liz previously served as a part-time assistant in my office here in Sheboygan, as well as a part-time assistant in Manitowoc.  When Manitowoc expanded their office to add a full-time position, Kathleen hired Liz to fill that position.  Since that time, I have watched as Liz has both significantly expanded the breadth of her work and become expert in other areas. Her growth in the time since she moved on to Manitowoc full-time is clear.  It is also clear to me that Kathleen has taken very seriously her role as a mentor and has played a large part in Liz's advancement, while still maintaining a large workload and increasing her expertise.  I can also see that both take very seriously their role as advisors to city department heads and elected officials, and that those they advise respect their work and their advice.  While both Kathleen and Liz would be worthy of nomination as individuals, as a team they (and Jane, as well) multiply their effectiveness.  I also know that they take time to have fun ("team building,") and enjoy each other's company.
---
Along with IMLA members, we would like to give a special thank you to the diverse group of women in the IMLA office who work very hard for the association and for our members.
Amanda Kellar Karras
Deputy General Counsel / Director of Legal Advocacy, IMLA
Amanda Karras is the Deputy General Counsel and Director of Legal Advocacy of the International Municipal Lawyers Association.  In this capacity, Ms. Karras oversees IMLA's legal advocacy efforts with the United States Supreme Court, Circuit Courts, and state appellate courts by reviewing and evaluating requests for IMLA's amicus assistance, advising the legal advocacy committee regarding potential amicus cases and their significance to local government, coordinating case strategies with IMLA's amicus authors, and drafting and revising amicus briefs. Ms. Karras has authored numerous amicus briefs and was the lead author of the Supreme Court merits stage amicus brief submitted by the State and Local Legal Center and IMLA in Equal Employment Opportunity Commission v. Abercrombie & Fitch Stores, Inc.  Ms. Karras is also responsible for developing the content at IMLA's conferences and in this role, works closely with the IMLA Program Planning Committee.  Additionally, Ms. Karras leads IMLA's sanctuary jurisdiction working group and coordinates other working groups for IMLA.  Prior to joining IMLA, Ms. Karras worked in private practice in Boston, Massachusetts, focusing on employment law and litigation, first with Ropes & Gray, LLP and later with Hirsch Roberts Weinstein LLP.  Ms. Karras received a bachelor's degree in sociology from Colby College and earned her Juris Doctor from Suffolk University Law School, graduating magna cum laude.  Ms. Karras served as an Articles Editor for the Suffolk University Law School Law Review. Ms. Karras is admitted to practice in Massachusetts, the U.S. District Court for Massachusetts, and the United States Supreme Court.  Ms. Karras was named a "Rising Star" by Massachusetts Super Lawyers in 2013.
---
Carolina Moore
Administrative Assistant, IMLA
Carolina Moore joined IMLA in 2017 to provide administrative support to the membership department, working along with the Director of Administration to maintain the direction and flow of IMLA Member dues. Previously Carolina has worked for some of the larger law firms in Washington, DC in the litigation area.  Originally from Georgia, Carolina holds an Associate Degree in Business from Trinity University in Washington, DC.  Carolina resides in Rockville, Maryland.
---
Caroline Storer
Marketing and Administrative Coordinator, IMLA
Caroline Storer is the Marketing and Administrative Coordinator at the International Municipal Lawyers Association. She oversees member outreach and marketing; managing IMLA's website, social media accounts and design assets. She also manages IMLA's virtual learning platforms during IMLA's distance learning program throughout the year in addition to fully training all speakers. Prior to joining IMLA she attended Florida Southern College and got her degree in Advertising and Public Relations and Interpersonal and Organizational Communications. After graduating in 2017 she went on to complete a media internship at an American study abroad college in Grantham, England. Caroline has been with IMLA since 2018 and now lives in Rockville, MD with her cat, Harper.
---
Deanna Shahnami
Associate Counsel, IMLA
Deanna Shahnami is IMLA's Associate Counsel, where she oversees the firm's distance learning programming as well as participating in IMLA's amicus activities and contributing legal analyses to Municipal Lawyer and eNews.  Additionally, Ms. Shahnami co-leads IMLA's diversity and inclusion working group and coordinates other working groups for IMLA.  Prior to joining IMLA, Ms. Shahnami worked in the office of counsel for a telecommunications consulting firm.  She received a bachelor's degree in journalism from the University of Florida and earned her Juris Doctor from DePaul University College of Law.  Ms. Shahnami is admitted to practice in Florida and Illinois.
---
Jennifer Ruhe
Director of Administration Membership Information, IMLA
Jennifer (Jenny) Ruhe is the Director of Administration for the International Municipal Lawyers Association. Jenny has been with the organization since 2013. She attended the University of Richmond and got her undergrad in Business Administration. During her time at Richmond, she played on the Spiders Division I soccer team and was a captain her senior year. After graduating in 2010, Jenny attended the College of Charleston and got her Masters in Business Administration with a concentration in marketing. Jenny now lives in Frederick with her dog Bella.
---
Trina Shropshire-Paschal
Director for Event Information and CLE Accreditation Conference & Seminar CLE Information Conference & Seminar Registrations
Trina Shropshire-Paschal has been a member of the IMLA team since 1986 and serves as the Director for Event Information and CLE Accreditation.  She serves as head of the IMLA Events Department and manages the administrative processing for IMLA's Accreditation Status as an Approved (M)CLE Provider.  She oversees the CLE and CPD filings with all state bars and law societies for live and distance learning events for the organization and the event attendees. Trina was assistant to IMLA's founder Charles S. Rhyne and served as the membership department liaison where she implemented the membership billing coding system.  Prior to joining IMLA, Trina was employed by a 501 (c)(3) non-profit organization where she managed confidential reports, payroll and a myriad of duties. Trina resides in the District of Columbia with her husband.