01 Aug

Announcement of the winners of the 2023 IMLA DeWitt F. "Mac" McCarley Scholarship

As part of its commitment to building generational involvement in local government law, IMLA created the McCarley Scholarships, named in honor of Dewitt F. "Mac" McCarley.  Mac has practiced municipal law for more than 45 years, having served as the Charlotte, North Carolina City Attorney from 1994 to 2011 and continuing as a partner at Parker Poe where he focuses on local government matters, including service as the town attorney for Southern Pines. Mac was an IMLA President, a recipient of the Charles S. Rhyne Lifetime Achievement award and was instrumental in creating IMLA's Institute for Local Government Lawyers (ILGL). Offered each year at the IMLA Annual Conference, ILGL is a one-day boot camp providing an interactive and experiential program for attorneys new to local government law (or for those that seeking a refresher). Mac, who has been a member of the ILGL faculty since its inception,  exemplifies giving back to IMLA. It is in that spirit that the McCarley Scholarships were created.

IMLA is pleased to announce the winners of the 2023 IMLA DeWitt F. "Mac" McCarley Scholarship – Chase Ames and Megan Luptowski!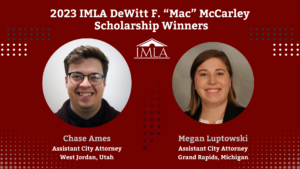 IMLA will be publishing their articles in the upcoming issue of Municipal Lawyer, and we look forward to meeting Megan and Chase in person as they join us for IMLA's upcoming Annual Conference in La Quinta, California!
---
About the Winners:
Chase B. Ames is an Assistant City Attorney for the City of West Jordan, Utah. Chase's prior practice included defending government entities and employees against section 1983 claims and representing commercial clients in construction and transportation disputes. Chase has also served as a law clerk for the United States Senate Judiciary Committee, Utah Third District Court, and Salt Lake City Attorney's Office.
Megan Luptowski is an Assistant City Attorney for the City of Grand Rapids, Michigan. She regularly works with both the departments of Municipal Affairs and Civil Litigation, with a strong interest in constitutional issues. Before joining the City Attorney's Office, Ms. Luptowski was a law clerk for the judges of the 49th Circuit Court of the State of Michigan. She is a graduate of Notre Dame Law School and the University of Michigan, respectively.