18 Jul

Local Government Attorneys Gain Wealth of Resources with New Shelter Data Tool
The views and opinions expressed in the guest blog post are solely those of the individual authors and do not necessarily reflect the official policy or position of IMLA. We do not endorse or guarantee the accuracy of any information presented in these guest posts, and readers are reminded that this post is not intended to provide legal advice.
Pets are an important part of American life, with more than two-thirds of U.S. households counting cats and/or dogs among their members. People rely on pets for everything from companionship to emotional support. When they need help finding a lost dog, adopting a new cat, or accessing resources to get through tough times, people turn to their community animal shelter. The public expects shelters to be a safe place for their pets, which is why an ever-increasing number of community members also want animal welfare agencies operated by their local government to become no-kill. That laudable goal is no longer out of reach with the right policies in place.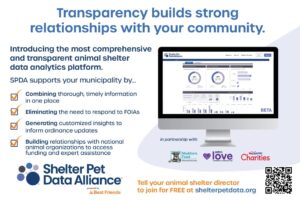 For a shelter to be considered no-kill, it must save the lives of 90% or more of the animals in its care. Such a commendable goal requires legislation that doesn't discriminate against dogs by breed or size, allows people to care for healthy outdoor cats, and doesn't rely on punitive measures to encourage responsible pet ownership. As architects of the laws, rules, and policies that govern communities and their shelters, local government attorneys are at the very center of community efforts to protect people and pets. To craft the most effective legislation, however, you need access to data—which is where the free Shelter Pet Data Alliance (SPDA) comes in.
Best Friends Animal Society designed SPDA to be the industry's most comprehensive data-collection tool and analytics platform ever, compiling information from approximately 7,400 shelters and rescues. The resulting monthly dataset is navigable by a variety of criteria, which means shelters can see their analyzed data comparatively month over month and year over year. This means they can spot trends and measure their positive impact over time. Soon organizations will also be able to create comparative reports with other organizations, view national or regional trends, and make predictions. Best Friends will also analyze this data to develop evidence-based solutions that help save the lives of animals in shelters and support the community.
The information collected through SPDA is valuable to local government attorneys in several ways. Key among those is that it delivers something invaluable to the community and to your work: transparency. Transparency builds strong relationships with the public and is often required under state sunshine laws. Many shelters have realized that being transparent enlists community members as partners by allowing them to see how their tax dollars are improving the lives of people and animals. Being candid about challenges also clearly shows where shelters can use help from the public.
For local government attorneys, having access to the data collected through SPDA means you can feel confident making choices based on the latest, most accurate information. Our pre-populated dashboards display specific data, allowing for comparisons based on a range of variables. Data collaboration is coming soon that will allow access to and sharing of data from organizations in your area and beyond. Local government attorneys will soon be able to access periodic reports from the Best Friends website, saving staff time and tax dollars required for the same data to be collected manually to fill FOIA requests.
Because Best Friends understands that no shelter can confidently share their data if that information isn't protected, we've aligned our system with IT security best practices. We'll never collect human data, and all integrations are one-way, meaning they won't push data back into the user's systems.
Ending the killing in shelters cannot and will not be accomplished without working collaboratively toward a shared vision. Best Friends counts local governments across the country as some of our closest partners in lifesaving. SPDA is just the latest tool to help our organization and yours deliver what the public wants: a country where dogs and cats are protected, the relationships between people and their pets are prized, and being able to call one's community no-kill instills a sense of  pride.