15 Jun

Announcing the DeWitt F. "Mac" McCarley Scholarship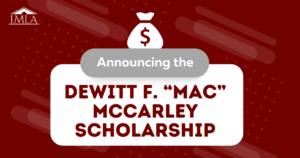 The International Municipal Lawyers Association (IMLA) is pleased to announce the inaugural IMLA DeWitt F. "Mac" McCarley Scholarship (McCarley Scholarship).  The Scholarship is named in honor of Mac McCarley who was the City Attorney for Charlotte, NC from 1994 to 2011 and then went into private practice as a partner at Parker Poe where he continued to focus on municipal law.  Mac has been practicing municipal law since 1977 and he continues to this day as the town attorney for Southern Pines, North Carolina.  Mac was an IMLA President, a recipient of the Charles S. Rhyne lifetime achievement award (IMLA's highest honor) and was instrumental in creating the Institute for Local Government Lawyers (ILGL), which takes place at the IMLA Annual Conference each year.  ILGL is a one-day boot camp focused on providing an interactive and experiential classroom-style program to attorneys that are new to local government law (or those that need a refresher) and allows participants to fully immerse themselves in the fundamentals of local government law.  Mac has been a member of the ILGL faculty since its inception and he exemplifies giving back to IMLA.  It is in that spirit that this scholarship was created.
---
Description:
The McCarley Scholarship consists of two $2,500 awards to attend the IMLA Annual Conference.  The scholarships must first be used to cover the IMLA registration fee and then may be used to cover additional expenses to attend the Conference, including transportation and accommodations (recipients must stay at the IMLA Conference hotel if accommodations are necessary) up to $2,500 total.  IMLA will reimburse the recipients for those travel expenses related to attending the Conference but will not reimburse for meals. Recipients must provide receipts for any reimbursable expenses.
---
Criteria:
Eligibility is limited to local government lawyers who:
1. have never attended an IMLA meeting;
2. are available to attend that year's Annual Conference;
3. have been practicing local government law less than 3 years; and
4. focus exclusively on local government law in their practice.
---
How to Apply:
1. Interested applicants must fill out the application on IMLA's website, which can be found here.
2. Applicants must submit an original article or work of legal scholarship pertaining to local government law of at least 1500 words. The article may be published in IMLA's magazine, Municipal Lawyer.
3. Applicants should also submit a short cover letter explaining why they are applying for the scholarship and what they hope to gain from attending the Conference.
---
Deadline:
IMLA must receive completed applications by 12 weeks before the date the Annual Conference begins.
---
Selection Process:
IMLA will form a committee to review the applications.  The committee will include five members, four of whom will be IMLA members and the other will be an IMLA attorney on staff.  The Scholarships will be awarded primarily based on the merits of the written article submissions.  Applicants will be notified within 8 weeks of the annual conference if they have been selected for the scholarship.