31 Mar

HERstory was made in IMLA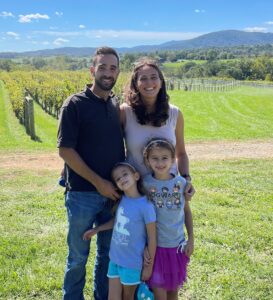 The International Municipal Lawyers Association (IMLA) made history this year when Amanda Karras became the first woman to ever be its Executive Director and General Counsel.  This new leadership deserves a new introduction.
In 14 years, Amanda has built a family (with her husband and two daughters) and legal career—majority of which has been with IMLA.  Her legal journey began after she graduated Colby College in Maine.  What would turn into a gap year, she worked in a social-worker-type position in Head Start in Denver.  She primarily served undocumented immigrants and became frustrated on how little she can provide them with meaningful help given their legal status in the country.  She wanted to do more on a larger scale and saw a legal career as a gateway.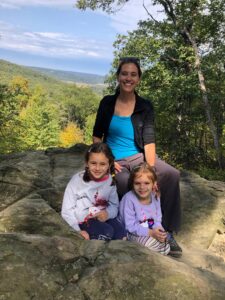 Amanda received her juris doctorate from Suffolk University Law School in Boston (and remains licensed in Massachusetts).  She practiced employment law and litigation in Ropes & Gray and then Hirsch Roberts Weinstein (HRW) in Boston.  One of her earliest highlights in her career was with HRW, when she was able to second chair a jury trial.  She did pro bono work at both firms working with asylees, where she found the meaningful help she wanted before law school.  She found supporting local governments is a way of helping people on a larger scale.
IMLA drew her in.  Ready to leave private practice and try something new, she began working for IMLA in September 2013 as the Director of Legal Advocacy.  She was drawn to the opportunity to work on constitutional law issues and breadth of local government law she would learn.  After several years, she was promoted to Deputy General Counsel and stayed in that role until the Board offered her the position of executive director and general counsel after Chuck Thompson retired from the position.  Since her start with IMLA, she has loved every minute of it.  She enjoys appellate advocacy and working on amicus briefs at the Supreme Court—most recently—the amicus brief supporting the City of Austin's petition for Supreme Court certiorari (which was granted) in Reagan National Advertising of Texas v. City of Austin.  She also loves meeting with members at IMLA events.  "Making those genuine connections is so worthwhile as it gives me more of a tangible sense of the impact of my work," said Amanda.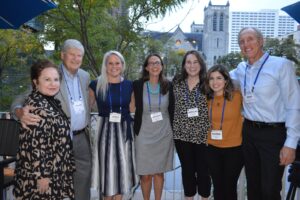 "I am fortunate to take over an organization that I think is on an excellent path and that has a mission I believe in.  IMLA is here to advance the interests of local government law, locally and nationally.  We do that through education and advocacy.  I plan to continue our mission though I'd like to expand the resources we provide to members, for example, by providing more working group opportunities," said Amanda about the future of IMLA.  Zoom has made collaboration easier to stay connected to the staff and members.  She looks forward to offering more opportunities for members to network and collaborate, both in person and virtually, throughout the year on topics of interest to them.  She also plans to continue IMLA's strong advocacy on behalf of local governments in the courts, specifically, "we are the only organization that regularly files amicus briefs on behalf of local governments outside of the Supreme Court.  And while our Supreme Court work is crucial, I believe our work on preemption in state courts is also extremely important and would like to continue to expand on this work."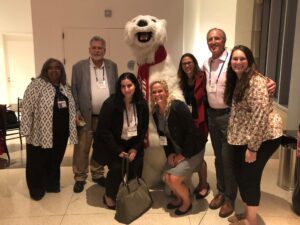 Her accomplishments do not exceed the woman herself.  IMLA has been the leading advocate and resource for local government attorneys for almost 90 years—lead by men in a male-dominated field.  Amanda's leadership in IMLA represents the importance of visibility and inclusion.  "Representation matters.  When a young attorney sees a woman (or minority) in a position of power, it allows that person to think they may have a seat at the table too someday.  I am grateful to be in this position and hope I can serve as a mentor and role model for others," said Amanda reflecting on her new position.
Visibility already exists in Amanda's life—from her biggest inspiration—her mother.  Her mom balanced her life-work schedule and was always there for her as a parent and as a role model for a professional woman (working full-time in local government).  Her mom was a living example on how a working parent could balance important professional obligations without sacrificing anything on the home front.  Amanda recalled her mom having a conference in Hawaii that turned into a family trip when she was about 8 or 9 years old.  This kind of balance helped create one of Amanda's fondest childhood memories, one that she remembers as a beautiful place where she swam with dolphins.  Now a mother herself, her biggest accomplishment in life are her two daughters.  She hopes to find the balance her mom had and be a role model of a working professional, for her daughters, who can show up for them when they need her.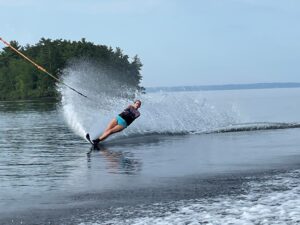 Just like her mom, she also makes time to enjoy the pleasures of life outside of the office.  She loves to spend time with my family especially in the outdoors, i.e., hiking, camping, or skiing; watching/playing sports (most of her sport watching these days is the second-grade soccer team); and waterskiing.  You may be surprised to find out our newest (and clearly athletic) leader was the captain of her Division III rugby team at Colby, where they won regionals (the highest competitive level at the time) her senior year.
She has visited 25 countries; most were visited before she had kids.  These days, Amanda and her family have been traveling closer to home and enjoying the mountains west of D.C. in the Shenandoah area.  Her lifelong bucket list is not yet complete!  Amanda still hopes to hike Mount Kilimanjaro in Tanzania and compete in a sprint triathlon (the short kind).
When you see Amanda at our events, help us congratulate her for her ongoing success and accomplishments in IMLA and for womanhood.