22 Jun

IMLA Celebrates Pride Month!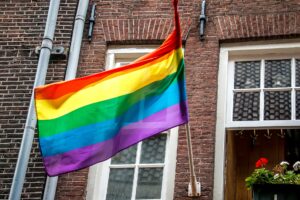 Fifty-two years ago, just after midnight on June 28, 1969, eight officers with New York's now-defunct Public Morals Squad descended on 53 Christopher Street in Greenwich Village.  Their target was the Stonewall Inn, a well-known gay bar and safe haven for the LGBTQIA+ community.  The infraction which brought them was an alleged violation of liquor laws.  More than 200 patrons were lined up, required to produce identification, subjected to anti-gay slurs, and needlessly subjected to force.
Police raids in gay bars were common at the time, but the June 28th incursion marked a turning point.  The Stonewall community fought back that night, with many being arrested in the ensuing fracas. Over the next six days, hundreds of people protested at Stonewall and the surrounding areas against repeated police harassment, police brutality, and discrimination.  At the end of a decade consumed by the Vietnam War, the push for civil rights, and the second wave of the women's rights movement, the gay rights cause expanded overnight.
Today, the push for equal protection under the law continues.  Much progress has been made, as evidenced by Supreme Court confirmation that members of the LGBTQIA+ community enjoy the same rights as heterosexuals in marriage, employment, and privacy; significant number of LGBTQIA+ candidates have been voted into public office; and a rapidly evolving acceptance of LGBTQIA+ people and issues by American society.
One memorable step forward occurred on the fiftieth anniversary of the Stonewall Inn riots, when James O'Neill, Commissioner of the New York Police Department, issued an unvarnished apology: "The actions taken by the N.Y.P.D. were wrong — plain and simple," he said.  ""I think it would be irresponsible to go through World Pride month, not to speak of the events at the Stonewall Inn in June of 1969 . . . . The actions and the laws were discriminatory and oppressive, and for that, I apologize."  Today, the New York Police Department numbers many hundreds of LGBTQIA+ officers.
But great challenges continue, notably evidenced in the conflicting posture between those who assert religiously-based rights to discriminate against the LGBTQIA+ community versus those who oppose such discrimination.  Municipal lawyers remain very much in the midst of those conflicts.
On this Pride Month, IMLA recognizes the contributions of all of our LGBTQIA+ members and celebrates the continuing march of LGBTQIA+ people from a night in New York City five decades ago towards full equality in every aspect of our national life.