08 Mar

Supreme Court Decides Nominal Damages / Mootness Case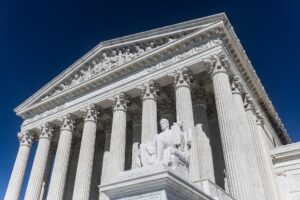 Today, in a 8-1 decision, the Supreme Court held in Uzuegbunam v. Preczewski that an award of nominal damages on its own can redress a past injury in order to satisfy Article III, making it harder for local governments to dismiss a case based on a changed policy where no compensatory damages are at issue.
In this case, Chike Uzuegbunam was a student at Georgia Gwinnett College. In 2016 campus police told him he could not distribute religious literature in an open, outdoor plaza on campus per the college's policy. Later Uzuegbunam distributed religious literature and spoke about his religious beliefs in one of two designated speech zones he reserved per the college's policy. The campus police told him he "had only reserved the speech zone for certain specific purposes, not including 'open-air speaking,' and that he was in violation of GGC's 'Student Code of Conduct' because his speech constituted 'disorderly conduct.'"
Uzuegbunam and fellow student Joseph Bradford who also wanted to share his religious beliefs on campus sued seeking injunctive relief and nominal damages, but no compensatory damages. While the lawsuit was pending the college revised its policy "such that students would be permitted to speak anywhere on campus without having to obtain a permit except in certain limited circumstances."
The Eleventh Circuit concluded that plaintiffs' claims for nominal damages did not keep the case alive because nominal damages would not "have a practical effect on the parties' rights or obligations."
The issue before the Supreme Court was whether a government's post-filing change of an unconstitutional policy moots nominal-damages claims that vindicate the government's past, completed violation of a plaintiff's constitutional right.
Justice Thomas, writing for the majority of the Supreme Court concluded that nominal damages can redress a past injury, satisfying Article III standing's requirement of redressability and reversing the Eleventh Circuit.  The Court reasoned that common law at the time of the country's founding supported the conclusion "that every legal injury necessarily causes damage, so [those founding area courts] awarded nominal damages absent evidence of other damages (such as compensatory, statutory, or punitive damages), and they did so where there was no apparent continuing or threatened injury for nominal damages to redress."  Though the majority admits that the rule it announces today was not "universally followed" at common law, Justice Thomas noted that Justice Story "made clear" that "every violation imports damage" and "this logic applied to both retrospective and prospective relief."
The majority rejected the argument that a claim for compensatory damages was a necessary prerequisite for an award of nominal damages and also brushed aside the Chief Justice's dissent, which argued that the decision would turn Article III courts into courts issuing advisory opinions (a point that IMLA / the SLLC argued in our amicus brief).
Justice Kavanaugh wrote a short practical concurrence, noting that in his view (and the Chief Justice agreed in his dissent), a "defendant should be able to accept the entry of a judgment for nominal damages against it and thereby end the litigation without a resolution of the merits."
To review the opinion, click here.